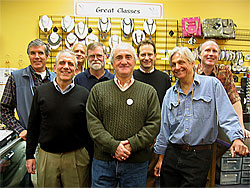 35th Reunion 2007
(click to view larger image - 108KB)
Ted, Eric, Henry, Rob, Rob, Steve, Gil, John
Thanks to the small but enthusiastic group who gathered for what might be our smallest reunion yet. Special thanks to Gil and Chris Stevens for hosting the event at their store uBead2 in Wayne, as well as all the attendees for their welcome potluck contributions.

We are looking forward to seeing you at the 40th if not sooner.

Submissions or suggestions for content on this site are welcome and encouraged. Please contact us via .