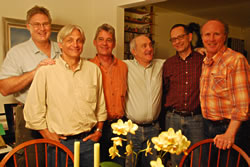 Friday Evening Gathering
(click to view larger image - 66KB)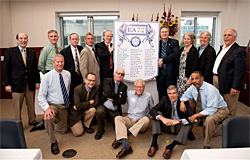 40th Reunion 2012
(click to view larger image - 240KB)
Classmates with new shield



Class Shield




Click here to see who attended.

The 40th reunion committee, comprising Ed Payne Kilbourn, Betsy Marshall, Tom Mascioli, and John O. Senior, started working with Kathleen Cannon and Stephanie Ottone from the alumni office in October 2011, making plans and trying to contact classmates, encouraging them to attend the reunion events held on 5-6 May 2012. The number of participants at the 40th was smaller than the now legendary 30th but much larger than the 35th, and the school did a very nice job with the reunion weekend activities held on the remarkable new campus in Newtown Square. For those who have not yet visited, it is certainly something to see.
Darrel Francis visited the campus on Friday, but needed to attend a family wedding on Saturday. On Friday evening, John Senior and his wife Nancy Kimmons hosted a small informal gathering that included Melissa and Steve Lewicki, Julianne Whitehead and Rob Manganaro Morris, Jeff Schaefer, Gil Stevens, and our reunion's winner of the longest distance traveled to attend award Chis Istrati, who flew in earlier that same day from his State Department posting in Paraguay.
On Saturday, a number of class members participated in some of the organized on-campus events during the day, and many attended the 5 pm All-Alumni Chapel Program that included a well-received performance of the evocative "Only Remembered" led by John Senior (guitar) and Nancy Kimmons (accordion) and joined by lead tenor Max Birtcil and the harmonies of Rob Morris and Chris Istrati.
Cathy and Henry Nassau, Rob Fisher, and Macke Raymond stayed for the the All-Alumni Cocktail Reception but departed before 7 pm when the classes all relocated for their individual dinners. The class of '72 reconvened in the Crawford Campus Center's Sherrerd Board Room for a group photo and the unveiling of their new class Athletic Shield, designed by John Senior and fabricated with the support of Bruce Konopka and the alumni office to replace the long-lost original and finally fill the waiting space on the shield wall in the Dixon Athletic Center.
After the photos were taken, Nancy Kimmons and John Senior somewhat reluctantly departed to perform again at their retiring pastor's recognition ceremony where Scott Schumacker was serving as MC, but rejoined the festivities later in the evening.
The class dinner that followed was attended by Rex Anderson, Rob Bell and his friend Kim, Chris Istrati and his sister Vanessa, Nancy and Joe Kelly, Payne Kilbourn, Nikolya and Mark LeFevre, Ted Leisenring, Melissa and Steve Lewicki, Dan Lundquist, Betsy Marshall, Tom Mascioli, Julianne Whitehead and Rob Morris, Tom Quinn, and Jeff Schaefer. The group also enjoyed an extended visit with Head of School Ham Clark and Director of Alumni Bruce Konopka toward the end of the dinner.
Tom Mascioli organized and generously hosted an after party on The Porch at Lamb's Tavern in Springfield, PA and was joined there by quite a few intrepid souls from the dinner as well as Rob "Dusty" DeLong, Chuck Taylor, and Rob Williams. A box of fine cigars added aromatically to the lively conversations that continued until after midnight. All agreed that the reunion was a welcome opportunity to once again enjoy the engaging company of our classmates and friends, and that we should get together again soon. Stay tuned.